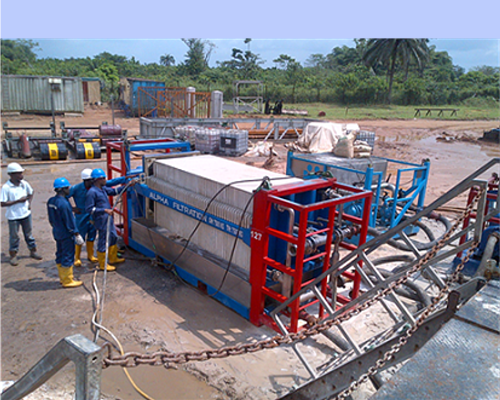 Filters work better at removing solids as they collect solids – bed filtration is very effective. The filtration efficiency (both size and quantity removed) improve with use. Pressure drop increases with use and is a measure of filter life. Filtration removes solids to prevent build up of solids and helps prevent plugging in the formation. Two basic filtration systems are employed: cartridges (nominal or absolute) and filter presses (Plate and Frame or Pressure Leaf).
Alpha Integrated Energy Services provide clean fluid on site for completion, work over, gravel pack and stimulation operations to minimize formation damage and help to maximize production.
With several years experience in the industry, Alpha have identified fluid contamination as being a major factor in the longevity of system components. Correct filter selection and regular oil analysis will improve system reliability by maintaining fluid cleanliness.
Our Filtration Service Applications
Power Units
Gear Boxes
Mobile Plant Equipment
Mining Machinery
Lubrication Systems
Drill Rigs
Earth Moving Equipment
Injection Moldings
Process Lines
Hydraulic Filtration
Process Filtration
Air/Gas Filtration
Engine Management
Fully documented system history and fluid trend analysis
Access to complete filtration range
Any contamination issues identified and analysed with written recommendations for system improvements
Vendor management saves time and ensures all stock quantity is maintained to avoid unnecessary machine down time
Immediate response to clients'
Vendor Management
On-site Identification
Audits
Flushing
Oil Analysis
Commission
Training
Fluid Management
CONTACT FOR SERVICES
Port Harcourt, Nigeria
Lagos, Nigeria